Conversational marketing continues to rise in popularity.
This is because one of the best ways businesses use to get new customers and maintain a solid relationship with existing ones is through consistent communication.
To do this effectively, businesses use different strategies and tools. Channels such as emails, social media, traditional media, and so on are quite popular and have been in existence for long.
While these channels have helped business owners grow and engage with their audience over the years, they still have their shortcomings.
Recent research by Survey Monkey Audience and Drift, show that online users still struggle with getting prompt information easily with these channels of communication.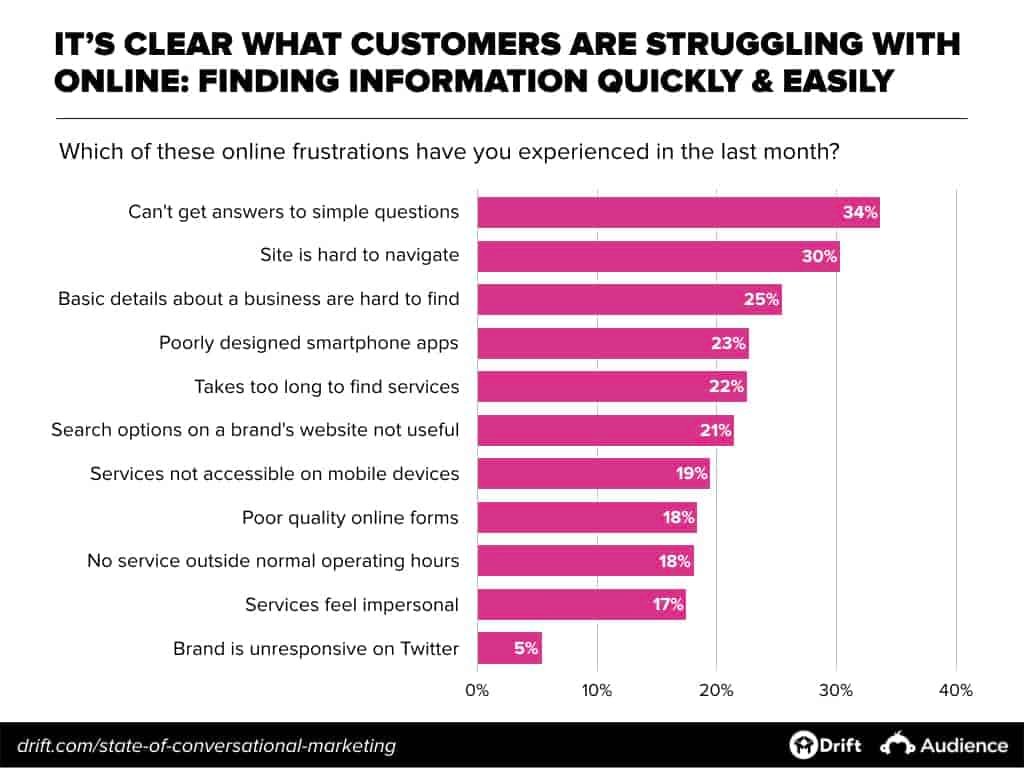 This shows that online users now prefer to interact with businesses through instant messaging. This is because it allows them to have immediate access to these brands, and also makes it easy for them to resolve any concerns they may have about their products and services.
So, if you're an online business looking to communicate effectively with your target audience, then excelling at conversational marketing is something you should care about.
In this post, I want to show you exactly what conversational marketing is and the steps you should take to excel at it.
Let's get started.
What is Conversational Marketing?
Conversational marketing helps you to communicate with new and existing customers in real-time. That way, you'll move them through your sales funnels much faster.
That's not all.
It also helps you to build personalized relationships and create a memorable experience for your customers. When you do so, converting the right leads in a short time becomes an easy task for you
In case you're wondering what the concept of conversational marketing or conversation marketing is all about, this section of the post will explain it in detail.
But before I delve into that, I'd like to know which you'd prefer out of these two businesses.
Business A has a great product, and pays great attention to detail, but their customer support takes 24 hours before they respond to customers' concerns and queries.
Business B has a great product, pays attention to detail, and responds almost immediately to any concerns and queries by their customers.
Chances are that you'd prefer the latter, and this is exactly what goes on in the minds of your customers before deciding to do business with you.
Truth is, aside from having a great product as an online business, ensuring that you respond to your customers' concerns promptly should be a top priority for you.
With conversational marketing, you don't expect your leads to fill a form and take days before reaching out to them. Rather, you use the right content forms to engage with them, while they're still on your website.
Conversational Marketing Statistics and Trends You Need to Know In 2022
Below are some latest conversational marketing statistics and trends you need to know in 2022, and what it means for your business.
Conversational Marketing Best Practices You Need to Imbue
To excel at conversational marketing, there are some best practices that you must imbue to make it happen.
Done right, you're sure to get tremendous results from this strategy. Else, you'd end up blaming yourself for doing it in the first place.
Here are the things you must consider to get conversational marketing right for your online business.
1. The Needs of Your Customers Are Paramount
With conversational marketing, the needs of your customers and not that of your business matter a lot. Hence, you must intelligently create your system such that the conversations happen in your customer's time.
Although as a business owner, you want to get more leads and close sales as fast as possible. When implementing conversational marketing, this isn't usually the case. Rather, you should focus on ensuring that you're available to chat with the customer at their own convenient time.
That way, a conversation that you initiated with the customer early in the day, could be completed late in the night.
2. Be Ready to Communicate With Multiple Customers at the Same Time
Another point which you must note as far as conversational marketing is concerned is to scale up your communication with clients. Unlike traditional forms of communication, you'll most likely be responding to a lot of customers at the same time.
This is why you must create a scalable system that can accommodate the communication needs of your customers. For humans, this might be a difficult process, unless you're working with a huge team.
You can build a chatbot into your system which provides answers to commonly asked questions. Alternatively, you could implement educational content marketing as a strategy to enable your customers to find the answers they need on time.
3. You Must Understand Your Customers Deeply
To succeed with conversational marketing, then you need to have a deep understanding of your customers. Without this, you won't be able to communicate with them at the level that they expect.
Take for instance, if a customer purchased one of your products online and reached out to you hours after, to complain about it. If you don't know the exact product that they purchased, it'll most likely take time before you provide them with a solution.
However, if you set up your system to tell you exactly the product that each customer purchased and when they did, answering their questions correctly then becomes a walk in the park.
This is why you need to understand your customers deeply. To do this, you'd need a CRM to gather, manage, store, and make customers' data easily accessible.
That way, your system will be smarter and your employees will respond to your customers in record time.
Benefits of Conversational Marketing: Why It Matters for Online Businesses
You stand to gain a lot when you implement conversational marketing in your online business. Here are some of the reasons you should start using conversational marketing today to grow your business.
1. Helps You to Learn More About Your Prospects and Customers
If you want to know the pain points of your prospects and customers, then you should implement conversational marketing in your business.
This is because it helps you to create a rapport and deeper understanding of what your customers care about and the products they love.
Take, for instance, if you're a content marketing agency and using a chatbot, you can easily qualify a prospect even before they purchase from you.
You can configure the chatbot to ask them questions such as:
How may I help you today?
Why do you want to implement content marketing as a strategy?
What type of content do you want us to create for you?
What's your budget for each piece of content?
How many pieces of content do you need per month?
By asking these questions, you're able to know more about your prospects and decide if they're a good fit for your agency.
Also, you're able to know exactly what their pain points are and how you can help their business grow with your services.
2. Provides Your Customers with an Avenue to Get Answers in an Exciting Way
Conversational marketing helps you to delight your customers and make communication with them less boring. Most people these days, prefer a quick answer to their questions through a chatbot than going through your website content.
Also, with more consumers spending more time on their mobile phones than ever before, conversational marketing will help you interact with them better.
Recent data by Flurry shows that US consumers spend more than 5 hours on their mobile phones every day.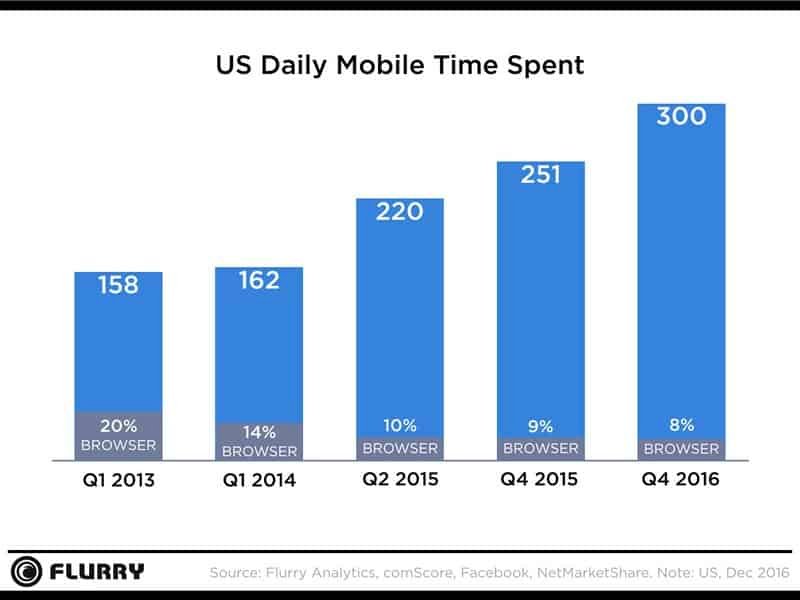 This shows that if you want to delight your customers these days, then you should use apps that allow you to give quick and personalized support to them.
When you do, they'd be happy to interact with you and most likely recommend your business to others.
3. Great for Converting Leads to Sales Faster
When you use traditional means of communicating with your prospects, such as lead forms and email optins, it takes time to convert your leads to sales.
This is because your team has to manually go through the form, qualify the prospects, and then reach out to them via email or phone.
This takes a lot of time and you might end up converting a qualified lead to a sale, in say 14 days.
With conversational marketing, you reduce your sales cycle hence making it easy for you to get more leads into your sales pipeline faster.
An example of this in action, is the digital transformation consulting agency, Bpol.
According to them, implementing conversational marketing on its website made them book calls easily with a potential lead – something they struggled with prior to using a live chat.
This was achieved because their sales reps were able to read and respond to messages from potential customers at any time of the day. That way, they can guide and qualify them correctly too.
At the end of the day, their bounce rate dropped by half.
4. Exciting Way to Build Relationships With Your Customers
To build a more robust relationship with your existing customers and prospects, then you should implement conversational marketing in your business.
The reason is simple. Conversational marketing platforms promote ongoing communication with your customers in a way that they'd most likely love.
Take for instance, if you want to purchase a new gadget at home and you visited two websites.
Website A provides you with all the details of the product and prompts you to make a purchase afterward.
Website B, on the other hand, provides you with the details of the product, and also a detailed comparison with other similar products then prompts you to chat with a live agent who takes time to explain the pros and cons of each product to you.
Which of these websites are you most likely to buy from. I bet you'd prefer the former.
When used correctly, conversational marketing helps you to build a strong relationship with your prospects who'll eventually convert into leads.
By adding live chat as a communication channel, Hubspot was able to attract 20% more qualified leads for their business.
Conversational Marketing Examples You Can Learn From To Grow Your Online Business
You might be wondering if conversational marketing is the right step to take for your online business. If that's the case, I want to show you examples of companies that use this as a strategy and how they use it to get tremendous results for their business.
Databox is a great example of a company that uses conversational marketing the right way to grow its business.
The first thing that any visitor (aka prospect) to their website sees is a chat prompt asking how Databox can help them in their business.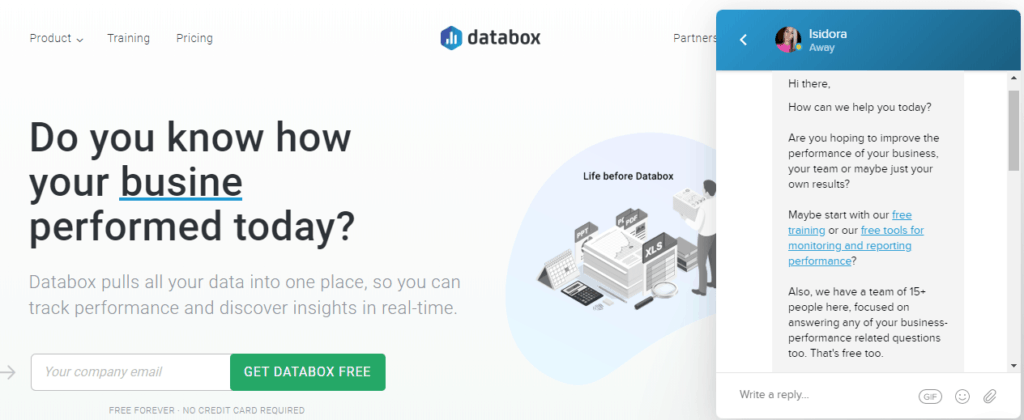 One thing I particularly love about this chat prompt is the fact that it provides the visitor with clickable resources to get started with the company immediately.
And if you want to take the conversation further, you can ask specific questions and someone from their team, will reach out to you immediately just like this: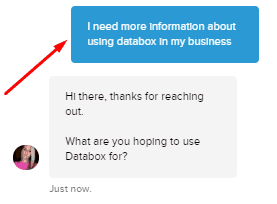 As you can see, if you were a prospect, this allows you to learn more about Databox and perhaps eventually sign up with them in the long run.
RapidMiner, the data science platform used by organizations across different industries is another great example of conversational marketing in action.
They make use of a chatbot to engage with prospects who land on their website.
As soon as you communicate with the chatbot, it immediately asks you to submit your email address in case there's a disconnection along the line.
That way, their sales team can follow up with prospects who have indicated an interest in their products.
Not only that, if you ask more questions about using the solution, there's someone on standby to point you in the right direction.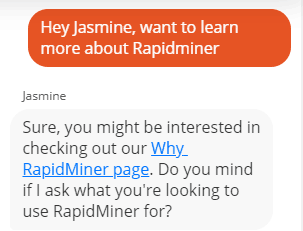 As you can see, they're using conversational marketing to generate more interest in their products and provide the needed information to their prospects on the go.
1-800 flowers is an online flower delivery company. They use a multi-channel conversational marketing approach which makes them stand out.
The company, which started using chatbots on Facebook, was one of the early entrants.
As soon as you click on "Get Started" you're prompted to either order flowers or talk to support.
Once you decide on the option, you'd then be redirected accordingly.
Also, you can initiate a chat with one of their representatives directly on their website.
Once you click on the "chat" icon, you'll be prompted to enter details such as name email, and the kind of help you need.
There, you can select if you want to make a new order or need help with an existing one.
As you can see, it makes customers' lives easy and helps them weed out prospects who aren't ready to make any purchase.
Brandwatch, a digital consumer intelligence company is another shining light as far as using conversational marketing in online businesses is concerned.
Once you visit the website, you're welcomed by the chatbot, which asks you if you want to know more about how consumer perception changes.
One thing I love about the conversational marketing tool on this website is the fact that it also serves as a knowledge base.
Such that, if you click on any of the options mentioned, you'll get a pre-written response to your question.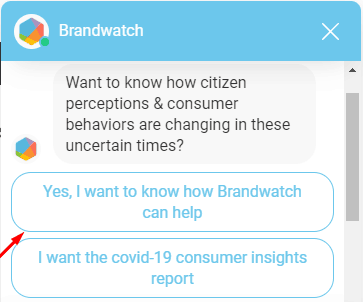 Depending on what you choose, a real customer support personnel follows up with you on the chat, to ensure that you get the needed help.
As you can see, they don't just assume that the bot will do the job, the team follows up to ensure that everything is done correctly.
7Shifts is a SaaS business that helps restaurant owners to schedule different shifts for their employees.
The intelligent chatbot which is used on their website (also known as 7bot) is awesome.
Once you indicate that you have a question, the first response you get from the chatbot is to confirm if you're a current user of the software.
If your answer is no, then it'll request that you submit your contact details to enable you to engage with the right person on the team.
As you can see, this chatbot was set up to identify website visitors who aren't clients. That way, the sales team can reach out to them and communicate the company's value proposition to those prospects who are a good fit.
Conclusion
In this post, I've shared with you why excelling at conversational marketing should interest you as an online business owner.
Also, I've shown you examples of online businesses that actively use this strategy and how it's helping them to convert website visitors to prospects and leads.
If you want conversational marketing to work for your business, then integrating it with a powerful content marketing strategy is the best way to go about it.
That way, as you engage your prospects and customers via chat, you'll be able to convert them faster with your content too.
Here are some ideas that would help you to get started with conversational marketing.
Personalize the conversations you have with prospects
Ensure that your chatbot is readily available to engage with your prospects 24/7
Outline the value you want from your ideal prospect
Take your prospects by the hand and don't leave them in doubt at any point
Check what works and optimize your campaigns accordingly.