Aside from email campaigns, B2B content marketers use educational content marketing strategies to nurture and grow their audience, according to a recent report by the Content Marketing Institute.
This shows that many brands have adopted educational content marketing as a core marketing strategy. So, it's either you implement this strategy or miss out on the numerous benefits that 77% of B2B content marketers currently enjoy.
This strategy has been singled out by most B2B content marketers as successful. However, if you fail to implement it the right way, chances are that you won't achieve any success with it.
In this post, I will show you why educational content is now popular among online business owners, especially B2B brands, and how you can implement it too in your own business.
What is Educational Content Marketing?
Educational content marketing is a strategy built on the age-long marketing phenomenon that in marketing your products or services to prospects, you should teach rather than sell to them.
This means that you should spend more time and resources educating customers about your product, why they should use it, and how it can help them.
Take, for instance, if your B2B brand helps businesses to manage customer relations, then you shouldn't focus only on marketing your CRM software to your prospects.
Rather, you should explain to them:
What CRM software is
How it can surcharge their profitability
Why it's necessary for making them have a great brand
How other businesses are using it to improve their ROI
And so on.
When you do this effectively and consistently, your audience will come to know, like, and trust you more.
And you know what? They'll be comfortable buying from you afterward.
Why You Should Consider Using Educational Content Marketing to Grow Your B2B Brand
Joe Pulizzi declared five years ago that educational content is a powerful content marketing strategy, and the more you educate or entertain your audience, the more they don't mind being sold to.
According to him, any brand that prioritizes educating its prospects and customers through the creation of remarkable content is wisely choosing the road less traveled.
In this short video, Biz Training explains what educational marketing is and why you should use it as a marketing strategy for your B2B brand.
Here are other reasons why you should consider using educational content marketing strategies for your B2B brand.
1. It adds value to customers
There is no better way to add value to your customers than by educating them. By doing this, you're making them more informed, solving their problems, and building a strong relationship with them.
2. Helps you fulfill customer needs and interests
Customers care only about themselves, and that's the bitter truth. Hence, if you're a brand that's conscious of nurturing your customers to become repeat buyers, then you have to do one thing; make them the core of your marketing. If not, you won't be able to create the kind of content and rapport needed to achieve this.
3. Build trust and confidence
If you're a new B2B brand, chances are that most prospects are still skeptical about buying from you. This is because they don't trust you. To build an emotional connection between your customers and brand, you should invest in educational content marketing. When you do, you can drive more sales with content marketing.
4. Establish your brand's expertise
More and more brands are springing up daily and seeking the attention of potential customers. One way to stand tall among the rest is when you are perceived as the leader in your industry. No better way to do this, than to educate your customers.
5. Great for lead qualification
When you consistently give your audience informative and action-filled content, you'll find it easy to qualify them as leads. This is because, as Pamela Vaughan, the principal marketing manager at Hubspot puts it:
6. Increases brand awareness
If you want more people to know about your brand, then you should consider educating your customers better. This is because quality and consistent content drives traffic to your website and helps you acquire more backlinks. And, the more value you add to your customers through educational content, the more they'll promote you on social media.
7. Sell more in the long run
Educational content marketing strategies are long-term investments in your brand. Although, some B2B brands don't want to follow this route because they don't want to put in the hardwork. With this strategy, you'll be able to build a base of raving fans who are not only interested in what you do but also understands it.
Educational Content Marketing Examples: 5 B2B Brands You Can Learn From
A lot of B2B brands now use educational content marketing strategies to nurture, grow, and sell to their audience. Here are some examples of them, and how they do it.
1. Indium
This is an engineering company that's mainly into the supply of electronics, semiconductors, and so on.
With the "One Engineer to another blog", it shares insights on a range of engineering topics such as the miracle of soldering, how to operate the indium, and so on.
That way, the company is able to break down complex engineering terms for its audience and enhance robust engagement and interaction.
2. Mint
Mint is an online financial institution that helps its audience manage financial transactions all in one place. With it, they can create budgets and track bills too.
However, on its blog, they teach their audience how they can do a lot of things with money. Topics such as "Lessons learned from 6 years without a car", "Insurance when you're a freelancer", "Zero-based budgeting" and so on can be found on their blog.

This helps educate their customers more about budgeting, financial planning, and savings.
3. Anthem
Anthem is a health insurance plan provider that uses educational content marketing for its business. According to Andrew Reinbord, the content marketing director at Anthem Inc.
We launched the Benefits Guide blog, as a response to the interest, our audience showed in learning more about the affordable care act regulations which we started teaching about.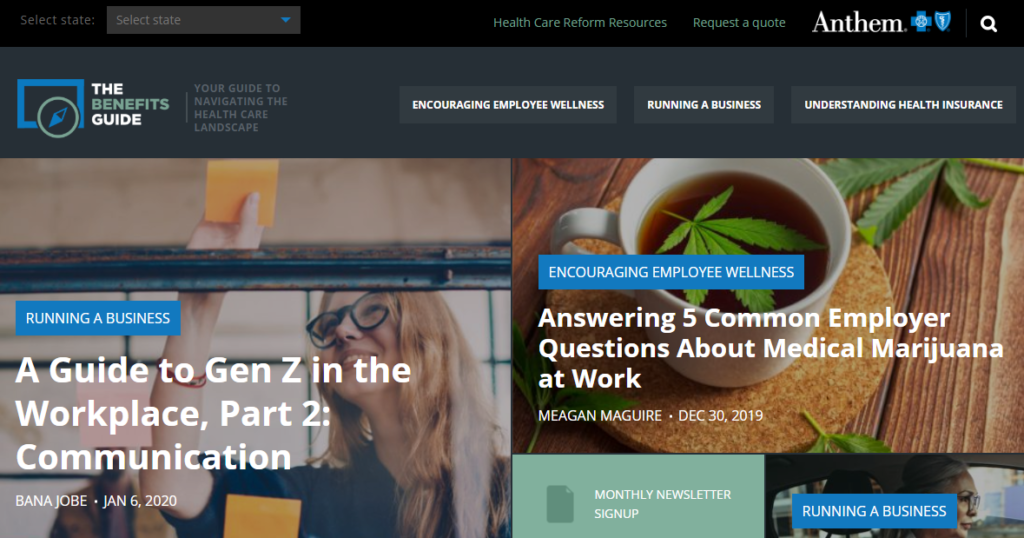 To do this, they write the law in an easy-to-digest manner and how it affects employees. Today, the blog has articles, videos, infographics, and whitepapers across different topics.
4. HubSpot
HubSpot is one B2B SaaS brand that became popular with educational content marketing. For most marketers out there, HubSpot is their go-to resource for content marketing, social media marketing, inbound marketing, and so on.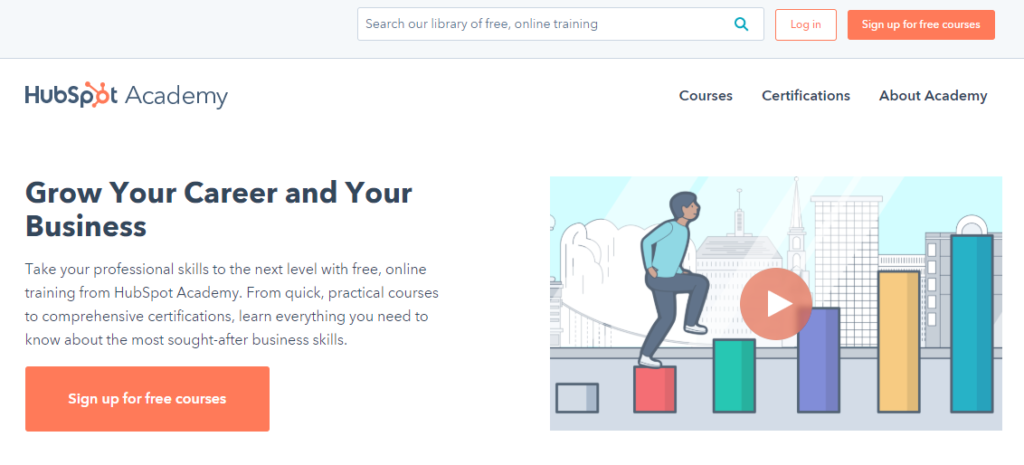 The reason is simple. HubSpot takes time to educate its target audience (aka marketers) through its blogs and social media platforms.
They also have HubSpot Academy which has certified over 200,000 marketers to date.
5. Hootsuite
Hootsuite is a social media management and marketing tool used by businesses to sprout online through social media. For its educational content marketing, it makes the effective use of online classes and courses through the Hootsuite Academy.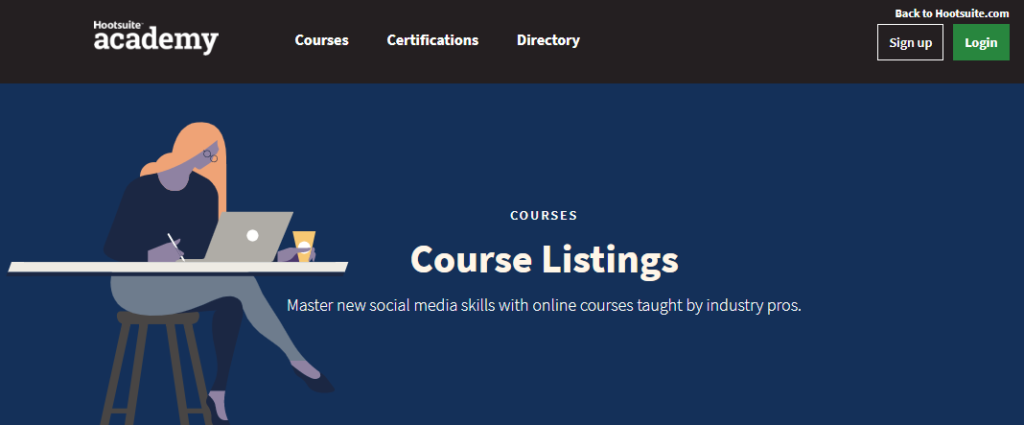 Anybody can sign up for its classes that are either free or paid. "Learn to succeed at social marketing" is one of the free courses available.
6 Educational Content Marketing Strategies You Can Implement for Your B2B Brand
Educational content marketing is the rave of the moment. However, if you don't implement it the right way, your brand will most likely not benefit from the opportunities it currently presents.
Here are six (6) educational content marketing strategies you can use for your B2B brand.
Strategy #1: Create a Customer Persona
A customer persona is a representation of your ideal customer. Having one will help you to develop content that your audience will find useful and relevant.
When you create a persona for your educational content marketing, you'll have a better understanding and grasp of what your customers desire from you, and an overview of what you must do to create a more robust engagement with them
Here are some of the steps you need to take to create a customer persona for educational content purposes.
Research your existing customers
These are the people that have interacted with your content in the past. Starting from them is a no-brainer. Check out the content that drove the most engagement for your brand in the past.
Learn more about your existing customers
You can ask members of your marketing team to provide more information about the demographics, personal histories, and expectations of your customers. Especially, as it relates to the content they love most.
Don't just assume, ask
If you want to serve your customers with awesome educational content, don't just assume that they like what you share, ask them questions. You can do this by calling them on phone or on skype, conducting interviews, surveys, and so on.
Gather all the information
As soon as you've gathered all the information you need about your ideal customer, you'll need to write down everything about them. This helps you create highly relevant content for your target audience.
Strategy #2: Develop a content niche
Your content niche helps you define what you want to share with your audience.
Take, for instance, if your B2B brand is in the email marketing industry, sharing content related to social media won't help you achieve much with this strategy. Similarly, if you're into ecommerce, educating your audience about SEO won't help in any way.
When you have a content niche, creating a content marketing team for your brand would be a lot easier.
Not only that, you'll be able to create a simple service that helps you focus solely on things you can do best and craft a niche marketplace that your competitors are undermining.
Above all, your content will be much more specific, relevant, and distinctive for your audience.
Strategy #3: Hack into your customers' mind
Aside from creating a customer persona that helps you target the right audience for your brand, you need to research their mind. With this, you'll be able to figure out the kind of content that will help them solve their pain points.
Doing this increases brand engagement and makes you give your audience the best.
Here are a few tips that'll help you research into your customers' minds faster
Steal from your Competitors
In knowing what your customers want, your competitors are your greatest assets. All you need to do is check the kind of content they are sharing with their audience, and how well it is performing.
You can also use competition research tools such as Spyfu, SEMrush, and Ahrefs for this purpose.
Look into Social Media
If your brand has a good social media presence, you should consider checking out what your audience engages with most on these platforms. Check out their comments, what they share most, complain most about, and so on.
Perform Keyword Research
Thanks to technology, performing keyword research for your B2B brand is now more straightforward. With tools such as Google Keyword Planner, and Ubersuggest, you can find out the specific keywords your target audience is interacting with the most.
Use your intuition
Without anyone telling you, you can guess what your audience will be interested in reading.
Assuming that your brand wants to release a new product. Questions you think your customers will most likely ask about these products is a good starting point towards educating them.
Ask your customers
There is nothing wrong if you ask your customers the kind of content they want to read from you. Tools such as Google forms and Survey Monkey can help in doing this effectively.
Strategy #4: Identify the best medium of content delivery
There are different types of content out there that your brand can utilize. However, the kind of customers you are targeting determines the medium of delivery you should explore.
Say, your target audience is millennials, educating them through short explainer videos on Tiktok will be ideal. If you're serving decision-makers in companies, creating long-form, informational articles will be apt.
When you identify the best medium through which you'll deliver your content, then you're set to get the best out of this strategy.
Types of educational content:
Blog posts
Long-form articles
Case studies
Newsletters
Press releases
Templates & checklists
Ebooks
Whitepapers
Infographics
Videos
Podcasts
You can also check out this comprehensive list of content you can create to educate your brand customers.
Strategy #5: Build an educational content team
Your educational content team will be in charge of idea curation, research, content creation, marketing, and so on. Although, a challenge most B2B brands face is forming a team that's efficient and effective.
To overcome this, you should consider setting guidelines for your team members from the onset. When you do, you'll be able to ensure that they deliver content that your customers will always come back for.
Here are some of the things you should tell your team to do.
Ensure that the content is relevant
This is critical. It's only when your content is relevant that you can keep your customers for long. To make content relevant, it should either solve a problem, make your audience laugh, be of great value, and also remarkable.
Create a strong headline
The first thing your audience notices about your content is the headline. If you're creating an eBook, for example, the title will either attract more people to it or make them lose interest in the eBook. Listicles, "how-to", and "tutorial" headlines tend to perform better.
Get them hooked from the onset
If you can't pull your customers into your content from the beginning, then you shouldn't expect them to read, watch or listen to the end. With an amazing introduction, you should have a remarkable effect on your audience.
Some great tips for writing a great introduction include:
Asking a question
Telling a story
Making a bold claim
Sharing a startling statistic
And so on.
Be conversational
If you bore your audience, they'll most likely stop engaging with your content. Hence, you should use conversational marketing strategically.
That way, you can infuse emotion into your content, share personal experiences, talk to them, make them laugh, and ensure they have "ha-ha" moments.
Make sure it looks good
No one ever wants to read a disjointed article or watch a video that's not properly edited. So, after taking the time to create content, you should format it.
Say, it's a blog post, some of the things you must do to make it look good are:
Choose an easy-to-read font,
Entice your readers with awesome images,
Use sub-headings to breakdown your post and highlight important points,
Use bullet-list, numbered lists, and so on to make some points stand out.
Strategy #6: Engage your customers regularly
Educational content marketing is a marathon and not a sprint. If you ever want to use this strategy in your business for long, then you should interact with your audience regularly.
Don't start a podcast today, and forget about it tomorrow. Don't create an online course that you won't follow until the end. It's only when you engage with your customers on a regular basis that you'd know their problems, provide solutions, and keep them with your brand for long.
If you wish to engage your customers for long, you most likely need a content calendar.
Conclusion
If you want to take your B2B marketing to the next level, then you should implement an educational content marketing strategy.
Not only will it make your B2B brand the authority in your niche, but also helps you reach more prospects, engage with them, and sell more to your customers.
In this post, I have shared with you educational content marketing strategies that will make your B2B brand stand out, such as:
Creating a customer persona
Developing a content niche
Researching into your customers' mind
Identifying the best medium of content delivery
Forming an educational content team
Engaging your customers regularly
When you implement this strategy for your B2B brand, you stand to gain a lot in the long run.
Frequently Asked Questions About Educational content marketing
What is educational marketing?
Educational marketing is a form of marketing that emphasizes educating your target audience rather than blatantly selling to them. The core marketing strategy with educational marketing is teaching before anything else.
What does educational content mean?
Educational content is any form of content that primarily teaches your target audience. The aim of educational content is to create a form of awareness about your products and services in the minds of your audience.
How do you educate customers to your product?
If you want to educate your customers to your product, then you need to simplify it to them and explain it using different forms. Some of the forms you can use to educate your customers about your products are blog posts, videos, whitepapers, podcasts, case studies, and so on.